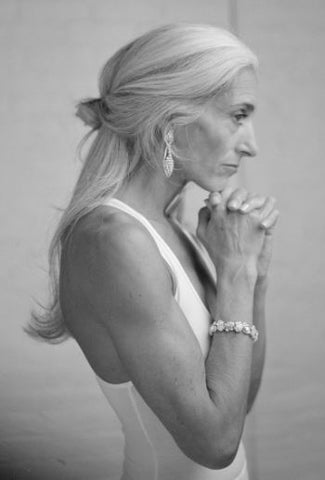 When I write or speak about the pelvic floor I usually start with the fact that most people never really know they have one until they are actually having uncomfortable symptoms.  People who are extremely physical and athletic usually think they must have strong pelvic floors because of all the exercise and sports they do. The yogis and other mind body methods also think their workouts are keeping every part of them flexible and strong. Whichever category you may fit into the pelvic floor and all it's possible problems remains out of most people's radar.
Talking about the pelvic floor is not part of the average conversation. If you think it must be included in your fitness program so you are covered, think again. You can be super strong and give birth to a child and all the sudden you have a prolapse in your pelvic floor. You are in a state of shock because you were so sure you were in great shape. Where do you go? What do you do?
Most obstetricians never talk to pregnant women about prolapses and how to prevent them prior to becoming pregnant nor during their pregnancy. If you are warned and educated about possible injuries to the pelvis and pelvic floor muscles and ligaments due to pregnancy and labor you can be proactive throughout the pregnancy. You will not be left in the dark about the possibilities that can occur during a pregnancy and postpartum. Given the choice and the tools in advance can help women avoid pelvic prolapses. And guess what? Kegels are not the answer. Tightening and letting go, where? Vaginally, rectally?????
Most women usually never hear about pelvic prolapses  until they get the diagnosis after their children are born or when menopause begins. The strain on the muscles and ligaments in childbirth are a big cause of pelvic prolapses. Pelvic organ prolapses have several names: rectal prolapse, vaginal prolapse, uterine prolapse, bladder prolapse also known as cystocele and rectocele. It is important to know that any prolapse that occurs in the pelvic floor happens when the supporting muscles and ligaments become weakened.  Later on in life a minor prolapse that was never addressed because it was never problematic earlier when it was occurring, can become a major prolapse after menopause due to the decrease in estrogen, collagen, muscle function and tone.
The good news is there are proactive things women can do to practice strengthening the two orifices in the pelvic floor: the rectum and the vagina. It is these two areas that tend to have the most prolapses. The pressure placed on the pelvic floor during labor can put more pressure on the rectum at first because this is commonly where we push out from for a bowel movement. So when a woman is told to push that is where she pushes from. Many women push to the rectum throughout their labors. Women must be trained how to push from their vaginas. They do not "naturally" know how to do this.  Women are taught Kegel exercises to do after pregnancy with the instructions to tighten all the pelvic floor muscles for several seconds and then to relax the muscles and repeat this several times doing this 2-3 times daily. My question is always the same, "How does someone know they are working all their pelvic floor muscles or what they are doing is actually working?  You cannot simply tighten a muscle and then think the muscle is getting the healthy tone it needs to support you. All muscles need to be able to contract and expand to be fully toned.
Here are two proactive ways to start to work on your pelvic prolapse. You must first know if your prolapse is more vaginal or more rectal or both. Sitting on a ball gives you a point of feedback so you can feel yourself lifting off pulling upward and as you exhale you feel your body dropping down into the ball. You can feel when you pull up from the ball and you can feel when you can pull up stronger.
Yamuna Recommendations for starting a pelvic floor toning and strengthening program.
1. Get a Yamuna gold and black ball. Begin with the gold ball. Sit on it and shift your body so the vagina is coming straight down into the ball. Have your legs spread apart so you are comfortable. You can lean your back against the wall. 
Keeping your weight slightly forward so you feel more weight into the vagina, inhale and pull your body up ward from the vagina with the help of your abdominal muscles. Your entire torso lengthens up.  As you exhale  let your weight drop down into the ball. As you inhale lift upward from the ball and on the exhalation let all your weight go into the ball. Each time you do this you will find it is easier to lift up from the ball. As you exhale you can feel more of your weigh coming down into the ball. Repeat this for 5-8 times.
Now add the following action. First inhale and lift your body up from the ball. As you exhale and the weight comes down into the ball push out from your vagina. Then inhale and pull the breath up from the vagina. Repeat this about 5-8 times
Working with both these variations will begin to develop the strength and tone to help improve the prolapse.
2. If there is a rectal prolapse or you feel more discomfort near the rectum do this variation.
Place the gold ball so the rectum can come right down on the ball. Lean back slightly with your torso. Practice the same pulling up from the rectum/ball. First do 5-8 repetitions just pulling up from the ball so you begin to feel you can contract and lift and you feel the rectum slightly contracting and lifting. Do this for about a week and then add the pushing out just at the end of the exhalation. Do 5-8 repetitions pulling up from the rectum and then pushing out. You will get to the point that when you push out you can pull up much stronger.
Make these part of your regular daily practice. Why not start doing this before you are pregnant? Don't wait until afterwards to find out you have a pelvic floor prolapse that could have been prevented. Be educated and become empowered with your own body.