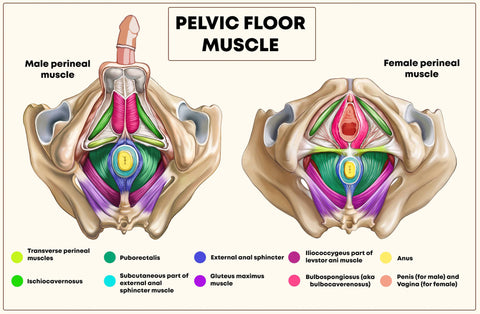 A few years ago I began thinking about why we are never taught how to access and work our pelvic floor muscles. I mean, you learn about your hamstrings, quadriceps, biceps and triceps but your pelvic floor muscles seem to be overlooked. Suddenly, you are diagnosed with pelvic floor prolapse, incontinence or other pelvic floor issues. You are left in a mild state of shock because you have no idea what to do about this part of the body that you have never had any muscular training in. Many women struggle alone  postpartum and post menopause. They aren't sure where to go and they are embarrassed to speak about what they are feeling to anyone. The logical place to go is your gynocologist. Most gynecologists tell women to do kegel exercises or go to see a pelvic floor physical therapist. Today there are more and more pelvic floor physical therapists available to help women and men who are struggling with pelvis floor issues.
Up until the last couple years no one really spoke about these muscles. Now we see pelvic floor fitness, yoga and Pilates classes springing up everywhere. I have observed some of these classes and I realize that these classes are exercising muscles that might not be working at all.  People who attend these classes just take it for granted that these classes will be working their pelvic floor muscles. However, how do you know if your pelvic floor muscles are actually working? There is very little information available to people which can help them find and work these muscles.
I decided to take six months and work my pelvis and pelvic floor muscles so I could really understand just what each of the pelvic floor muscles does and how they all work together to form a solid pelvic foundation. Once I did my self exploration and worked daily I realized the work was too important to just use for myself. I decided to create a training for all the Yamuna practitioners so they would be able to teach classes on stabilizing the pelvis and working  each of the pelvic floor muscles. The more I explored my pelvis and pelvic floor muscles I came to realize how simply activating these muscles their muscle memory was sparked and my entire pelvic floor became such a solid foundation for my entire torso and spine as well as for my feet. My posture improved and it was simply impossible to collapse into my pelvis once these muscles were switched on. I always thought and taught that the feet were the foundation for the entire body, however once I worked the pelvic floor muscles regularly I realized the pelvic floor muscles were the dominant foundation for the entire body.
I began testing if these muscles were teachable in classes for regular people. What I found was everyone could do the class and with the help of me demonstrating how to work each muscle and having the drawings of each muscle up on the big screen the changes in people's bodies were extraordinary. After almost every class both women and men came up to  share their personal stories of how they have suffered and that this class gave them hope. 
When a person takes the time to work each of her pelvic floor muscles she feels empowered afterwards because her body transforms quickly into a strong and well aligned body supported by the pelvic floor. As we take people through the class we have them stand up after working each muscle so they can feel how each pelvic floor muscle helps to build and support the entire pelvic floor. By the end of the class most people are standing so much taller and they find it impossible to collapse into their pelvic floors.
Part of what people learn is that it is possible to fix pelvic floor problems on your own. If a person has never felt her pelvic floor muscles how can she possibly fix a problem herself? She is forced to go to a professional. Perhaps the best place to start is teaching people how to work these muscles themselves and see just how many pelvic problems resolve on their own. 
I recently streamed an online class on the pelvis and pelvic floor muscles. It is now available for everyone. I highly recommend this education to everyone. Once you have done the entire video 3-5 times over a ten day period try doing it once a month just to make sure all the muscles stay activated. If you feel a problem return then do the routines in the video for several more weeks. Most pelvic floor problems and organ prolapses will resolve themselves if you do this work. Whatever else still remains problematic then you go and see a pelvic floor specialist, but you go with greater awareness. You know what you improved on your own and what you still need help with.